For serious offshore sportfishing, The Lady D offers charters of 18 hours, as well as two-day and three-day excursions. These exciting excursions combine bottom fishing for our prized Gulf gamefish such as snapper, grouper and triggerfish with trolling action for top saltwater sportfish such as Mackeral, Tuna, Mahi, Wahoo and perhaps Sailfish and Marlin. These extended overnight trips are your choice of charter for top offshore action on Yellowfin Tuna and Mahi (also known as dolphin — not the bottle-nose mammal variety, of course).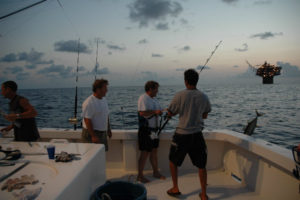 Many charter clients book our overnight trips year after year, for an annual reunion with their serious saltwater fishing friends, or for some serious business client entertainment (i.e. adventure).
To learn more details on what to expect and what to bring along on our Overnight fishing trips, see our FAQ page.