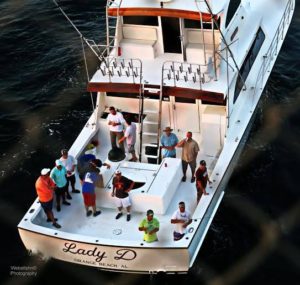 Captain Casey Price and crew of the Lady D are among the finest of the Orange Beach Charter fishing fleet and are seasoned experts in every variety of offshore and near shore fishing. We are prepared to meet your year round fishing needs, and offer charters from 6 Hour and 8 Hour trips, to extended Overnight Trips. In the Winter and Spring, guests can fish for Tuna, Wahoo, Dolphin and Billfish. Later in the spring there are opportunities to fish for Amberjack, Grouper, Scamp, Vermillion Snapper, and Trigger fish until the Red Snapper season opens when all bottom species can be targeted. Lady D is an excellent platform for Cobia fishing, as Cobia begin their annual migration across the Panhandle of Florida towards their spawning grounds in Mississippi and Louisiana. Finally, fishing offshore for Tuna, Wahoo, Dolphin and all Bill Fish species is fantastic from spring through fall. As the season moves from Fall to Winter, the Bull Redfish are in full swing and can be targeted on a very relaxing day trip out of Orange Beach. During our Spring and Fall months, there is plenty of action on inshore trips. As you can see, the fishing never ends.
The Lady D holds many record catches including: the Alabama State Record Yellowfin Tuna, weighing 221 lbs 7.2 oz, and many IGFA World Line-Class Cobia records.
The "Lady D", her captain and crew are U.S. Coast Guard certified.
**Please Note: All charter bookings are by prior reservation, so we can not accommodate walk-up business at the marina docks. Each charter is exclusive to your party. We do not place mixed groups on the same trip. Contact Us today to confirm trip schedule availability and to book your charter date(s).
Here's the menu of our standard charter offerings, call for current pricing*:
6-Hour Trips –Call Us For Customized Pricing
8-Hour Trips –Call Us For Customized Pricing
10-Hour Trips –Call Us For Customized Pricing
12-Hour Trips –Call Us For Customized Pricing
Overnight Trips — Call Us For Customized Pricing
Inshore Trips — Call For Customized Pricing (Offered Fall & Spring months only)
*Charter pricing  starts around $1600  for up to 10 people. Add 10% of total charter cost for each additional person over 10 passengers